The Uveneer® Story
Dental Art Made Simple
Australian-based dentist Dr. Sigal Jacobson created the ingenious Uveneer direct composite template kit when she found that traditional freehand direct composite veneers were artistically challenging, time-consuming, unpredictable, and not always cost-effective. Passionate about conservative cosmetic dentistry, Dr. Jacobson knew there was a better, less invasive way to create long-lasting, esthetic composites. She spent years working with engineers to create the perfect design and process for her anterior facial matrix template system. Then, the Uveneer template system was born.
Uveneer templates solve solves one of the biggest everyday problems dentists face: creating predictable, durable, esthetic veneers. Simply put, the Uveneer system is designed to consistently create beautiful restorations, every time. Just select the Uveneer template that matches the tooth size and shape you are working with. Uveneer templates work with any composite. Place your preferred composite onto the tooth, and press the template over the composite. Clean off the excess, cure, and be amazed at how easily you created a veneer with beautiful contour and finish. It really is as simple as that. The Uveneer template system can also be used for cosmetic mock-ups and shade selection as well as temporaries during porcelain veneer creation.
Uveneer
The unique, minimally invasive Uveneer template system creates beautiful direct composite veneers with predictable shape and symmetry—all in one visit. Each template mimics natural dentition and is designed to create high-quality natural-looking anterior restorations. Uveneer templates use innovative technologies that help achieve a refined, anatomically correct, high-gloss restoration in a fraction of the time than if done freehand. Results are both reproducible and predictable.
Allows for predictable, high-quality, natural-looking composite restorations


Allows light to pass through the template to the composite for effective curing


Works with any preferred composite


Releases easily from cured composite resin


Requires minimal adjusting or polishing


Can be used on individual or multiple teeth


Can enhance practice efficiency


Is available exclusively from Ultradent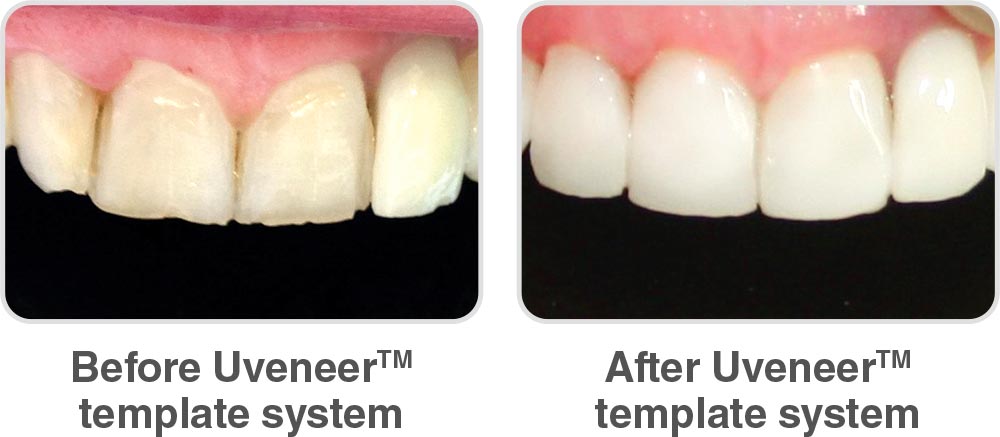 "Uveneer makes the practice of the anterior esthetic dentistry easier, faster, and better."
Dr. George Freedman, DDS
"The simplicity of Uveneer is absolutely remarkable. Why didn't I think of this?"
Dr. John C. Comisi, DDS, MAGD
"Terrific tool to quickly and easily create beautiful anterior restorations."
​
Dr. Gary M. Radz, DDS