Ultradent's Tissue Management Story
A Legacy Since 1978
The Problem. The Solution. The Company.
The Problem
In the late 1970s, there was a major problem in dentistry, and Dr. Dan Fischer knew it. Of all the available hemostatics on the market, none of them stopped bleeding sufficiently and predictably enough to allow for quality impressions. Why is this a problem? Because, as Dr. Fischer says, "There is nothing one can do—in a quality way—in the presence of blood."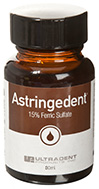 The Solution: Astringedent
Hover to read more
After careful research and trial, he discovered that one of his ferric ion compositions, later known as Astringedent, instantly coagulated blood. He eagerly began using it for patient impressions, hoping it was the solution he had been looking for. But instead, he discovered it was a mess. Yes, it coagulated the blood, but it left that coagulum everywhere; it was in the impression, and when he washed, there was bleeding underneath the coagulum.

"Yes, I was discouraged, but not ready to give up," he says.
The Solution: Metal Dento-Infusor Tip
Hover to read more
Soon after, Dr. Fischer discovered that if he delivered his Astringedent using a syringe and a tip with a stiff brush end, he could overcome the challenges caused by the residual coagulum. So he created the Metal Dento-Infusor tip.

"This process taught me the value of putting the solution in a syringe," Dr. Fischer says. "I discovered that for my ferric ion solution to work, I needed to scrub it firmly into the sulcus. I learned that by rubbing and scrubbing firmly, I could infuse the solution into the cut capillary openings. To my delight, it worked! The coagulum left in the capillary openings effectively plugged them up, stopping the blood from oozing out."
The Company
Hover to read more
Knowing that this "scrub and rub" technique would seem counterintuitive to many dentists, Dr. Fischer began travelling to dental trade shows to demonstrate the product and the technique—often using his own blood. After some time, Dr. Fischer realized he would need a company to back his groundbreaking product and to lend Astringedent the credibility it deserved. And just like that, Ultradent was born.

The invention of Astringedent paved the way to Ultradent's family of flagship tissue management products, including ViscoStat, ViscoStat Clear, and Astringedent X. Countless dentists have found amazing success using these products along with Dr. Fischer's scrub and rub technique. Try them for yourself and you will too!

Astringedent
®
Astringedent was Ultradent's first product, created in 1978, and forms the foundation for the company's award-winning tissue management line. It's well suited for a variety of dental procedures, and because it's more aqueous than other hemostatic agents, it's ideal for soaking retraction cord.
Known as the "classic" hemostatic agent


Stops bleeding in seconds


Eliminates sulcular fluid contamination for optimal bonding


Decreases costly impression remakes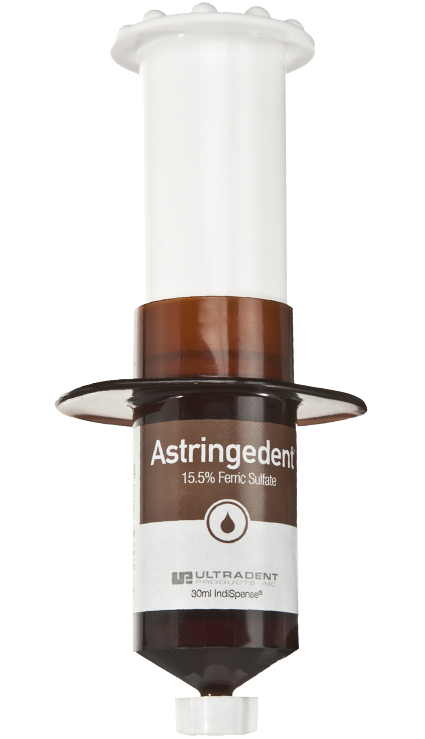 "I recently had to practice at another dental office that only used Expasil* for hemostasis. It made me realize how much I love Astringedent for its ease of use. Astringedent is easily applied and works instantly, unlike Expasil. Now that I am starting my own solo practice, I will have Astringedent available for all of my operative procedures."
Dr. Cheryl Atiga — Murrieta, CA

Astringedent
®

X

Our most powerful hemostatic, Astringedent X offers profound hemostasis for every patient, even with the most challenging cases. It's ideal for difficult-to-stop bleeding and should be a staple in every operatory.
Astringedent X and the Dento-Infusor tip facilitate profound hemostasis, even with challenging cases.
"Astringedent X is one of our go-to materials. We rely on its coagulating properties to obtain a dry and clear field to achieve optimal restoration outcomes."
Dr. Cami L. Hovda — Carmel, IN

ViscoStat
®
ViscoStat is the go-to hemostatic for most tissue management needs. Its viscous formula is easy to place, and its potent ferric sulfate composition stops bleeding fast while still being kind to the tissues.
Causes profound hemostasis


Stops bleeding in seconds, saving chair time


Provides unsurpassed kindness to hard and soft tissues


Eliminates sulcular fluid contamination for optimal bonding


Decreases costly impression remakes


"I can't live without ViscoStat because it takes seconds to save an hour and stops the bleeding when nothing else will. Now I don't have to re-prep for impressions."
Dr. Jeffrey Stratford-Jones — Ventura, CA
"ViscoStat has allowed me to take clean, dry, accurate impressions even in some of the most hemorrhagic situations. Thank you! I appreciate it, my lab man appreciates it, and my patients appreciate it."
Dr. Monte Person — Fresno, CA

ViscoStat
®

Clear

For predictable hemostasis in the esthetic zone, ViscoStat Clear effectively stops bleeding without staining the hard or soft tissues. And its viscous formula won't run or drip.
Stops minor bleeding in the esthetic zone


Leaves no residue or stain and rinses easily


Places easily


Comes as a viscous yet spreadable gel


Does not interfere with bonding

1



"I routinely use Viscostat Clear to help isolate those areas that would be difficult to successfully treat any other way. It is a great product and I would recommend it to anyone!"
Dr. Thomas Grotenhuis — Appleton, WI

Ultrapak
®
Ultrapak is the original knitted cord, made of thousands of tiny interlocking loops that exert a continuous outward force following placement. Ultrapak is easier to place than braided cord and can be soaked in an astringent to ensure complete hemostasis during the entire procedure.
The original knitted cord


Provides rapid tissue displacement, detailed margins, and quality impressions


Facilitates easy packing and stays placed better than any twisted or braided cord


Compresses upon packing then expands for optimal retraction


Does not entangle in diamond bur


Bright colors facilitate easy location and removal


"Ultrapak is excellent at displacing the gingival tissue, allowing proper hemostasis, and is easy to place and remove. It works very well for all retraction purposes. The different sizes are good for all situations."
Dr. Y Clement Shek — San Francisco, CA
"In dentistry, time is money. Ultrapak's woven design makes packing the cord quick and easy, plus the tooth can be prepped or touched up without snagging the cord. This increases patient comfort in shortening the appointment with far less repeat impressions."
Dr. Thomas J. Frankfurth — Tampa, FL
"Ultrapak cord has taken the stress out of cord packing. This was the most frustrating part of my day when I was using other products. Add the amazing Astringedent and... LIFE IS GOOD!"
Dr. Lisa Marshall — Xenia, OH
Metal Dento-Infusor
®

Tip

To get the most out of our award-winning line of hemostatic agents, you need the right tip. The Metal Dento-Infusor tip is made specifically for effective tissue management and is designed to deliver our Astringedent and ViscoStat product lines. With its blunt, bent cannula and padded brush, the tip allows you to apply gentle pressure on the sulcus to effectively remove superficial coagulum. And its Lok-Tite dual thread locks the tip securely into place.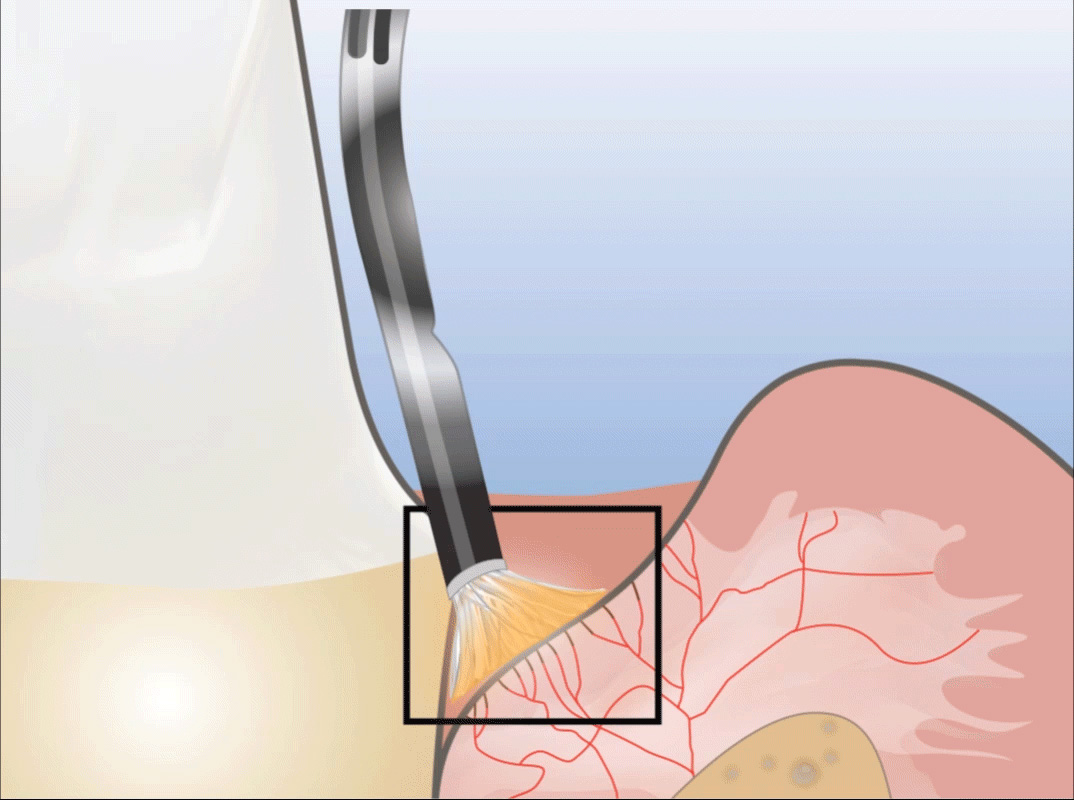 1. Burnish the hemostatic agents firmly against the sulcus until bleeding stops. (No more coagulum forms.)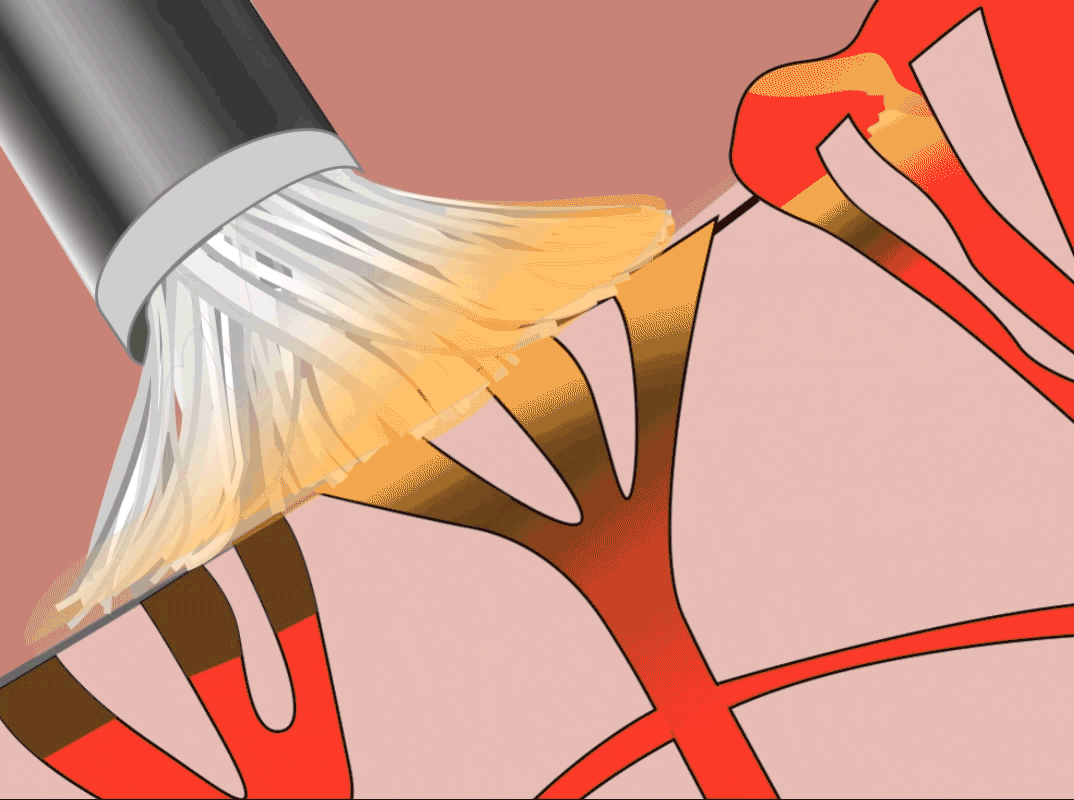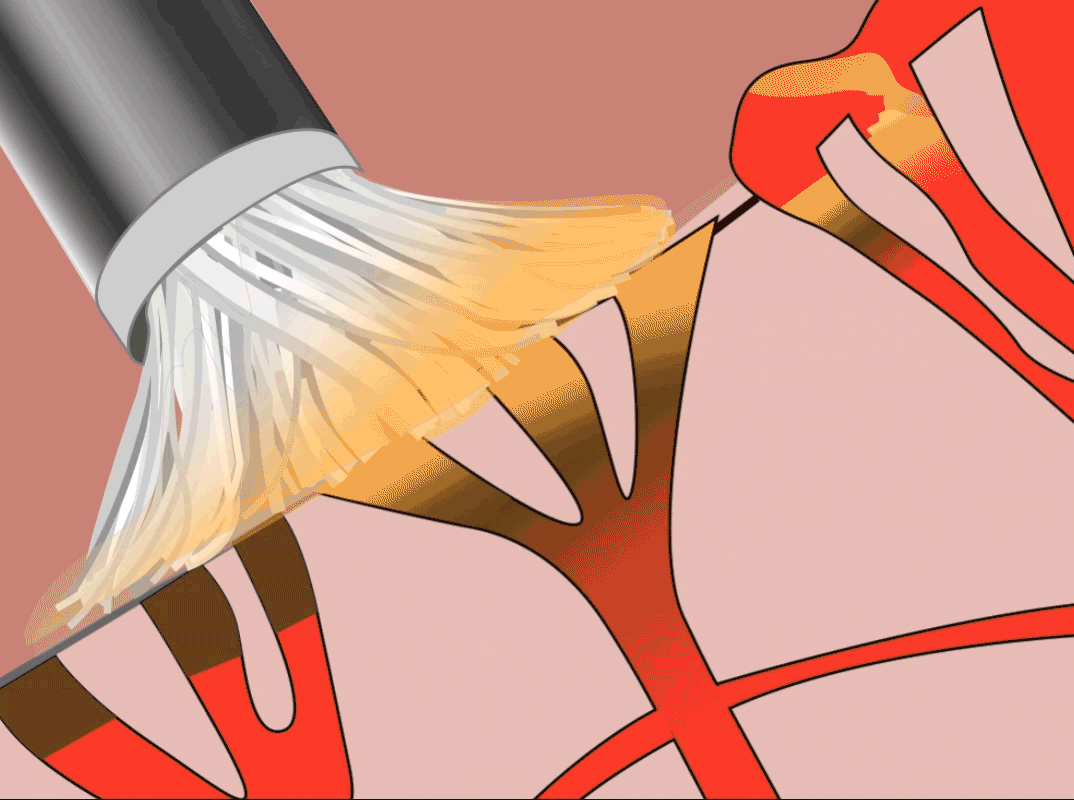 2. A blunt, bent cannula with padded "scrub brush" enables infusing and cleaning in the cut sulcus.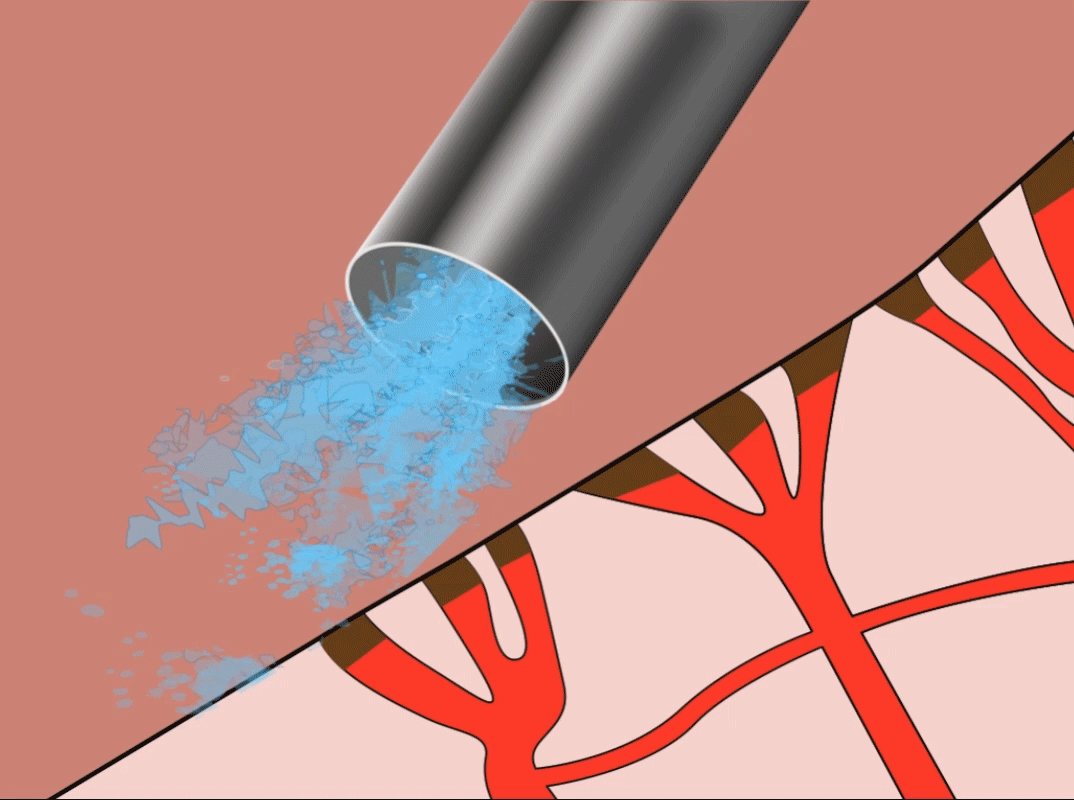 3. Apply firm air/water spray to remove residual coagulum and test tissue for quality, profound hemostasis. If bleeding continues, repeat infusion technique.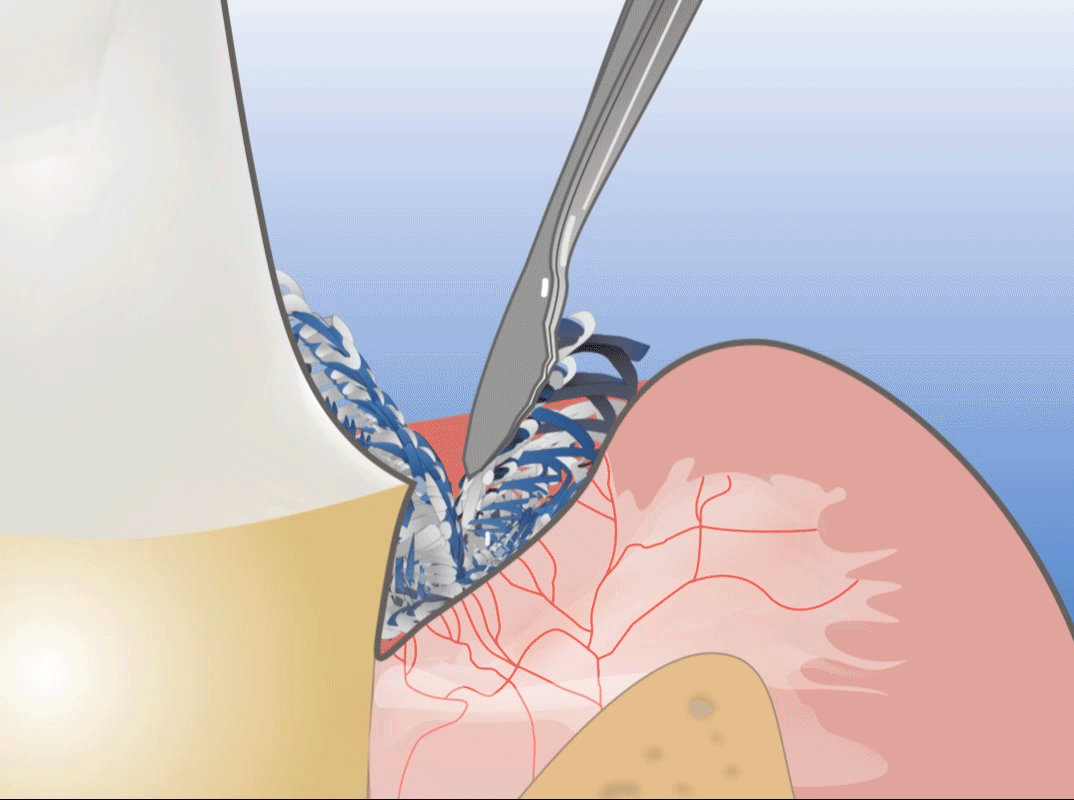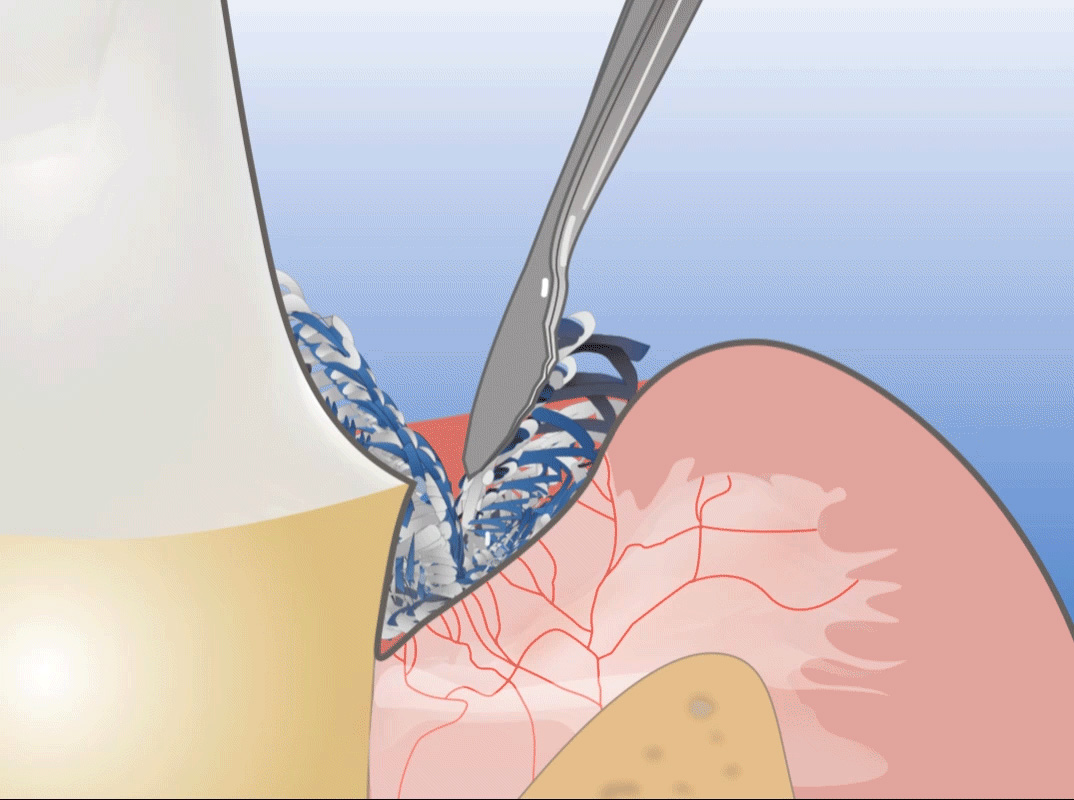 4. After complete hemostasis has been reached, excellent retraction is achieved through the use of Ultrapak knitted cord.